Puerto Vallata(プエルトバヤータ)メキシコ旅行記 前編
2016年 09月 03日
シアトルからプエルトバヤータまで5泊6日の余裕のバケーションだったはずが、、、
A long trip to Puerto Vallata.



Puerto Vallarta is located on the Pacific Coast of Mexico, which has a traditional town and beautiful beach and mountains. It's been a beach resort for American and local Mexican people. If you flight from LA, it takes only 3 hours.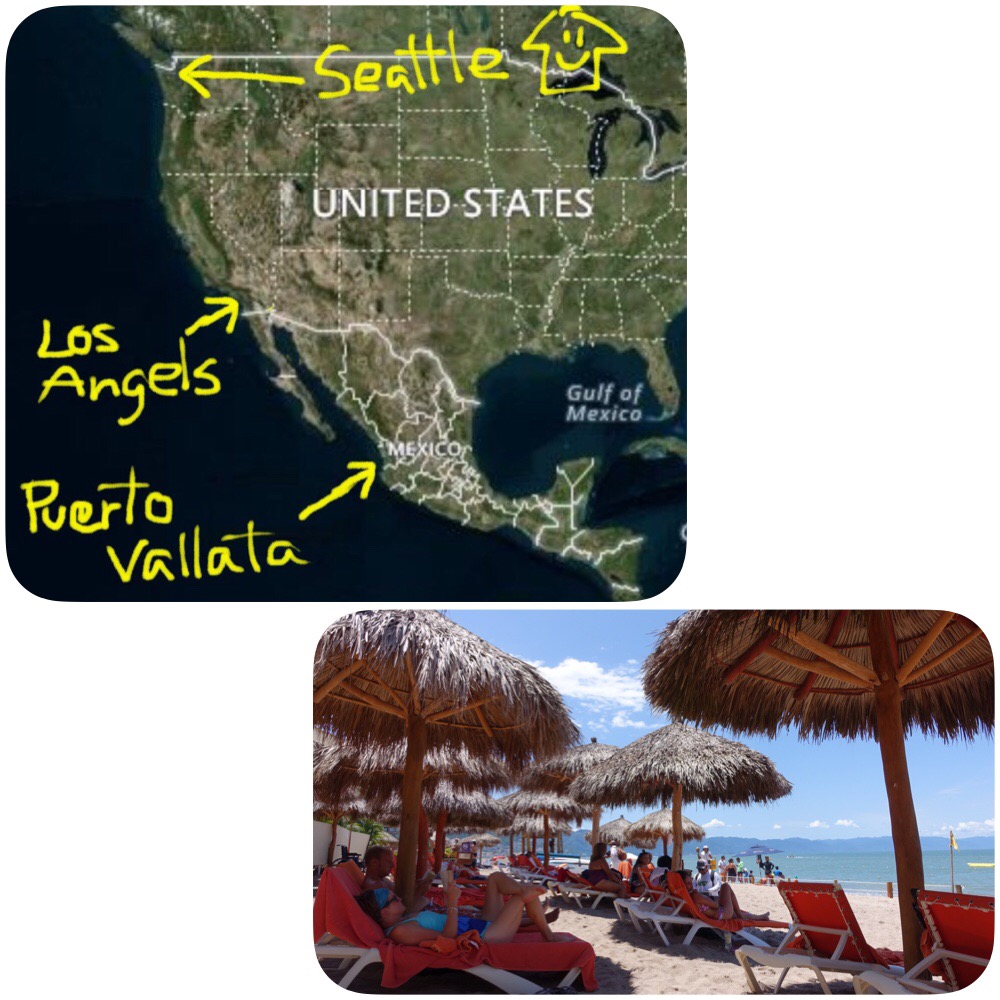 6時間くらいのフライトで楽々こんな楽園ビーチにたどり着ける!!はずだった、、、

When we got the airport, a lot of people were waiting in line for checking-in. It was early in the morning and usually it shouldn't be like that. Seemed some people were stuck at the counter and the line got stopped. We were there earlier and should never miss our flight, but as the time passed, we got so nervous. Just before 30 minutes from our flight, our turn came finally, the staff said calmly that we couldn't make it because the time for check-in baggage was over. WWWHAT?! My brain went blank. How on earth could it happen in spite of we did come here in an appropriate time?
After a long call searching for the alternative ticket, they offered us two options: one was to fly to Salt Lake City tonight, stay at the airport till next morning then fly to L.A. and then to Puerto Vallata.

長すぎるやん!!!

Another one is to fly tomorrow morning in the same time.

さらに着くのおそくなる!!

That was worse, and yet, they tried to make us extra purchase on it: $500 and more!!

ありえへんわ!!

I insisted it was NOT our fault, said we came here before 2 hours and the line was just too slow. They said they were doing their best to help us out. REALLY?!!

ほんまかいな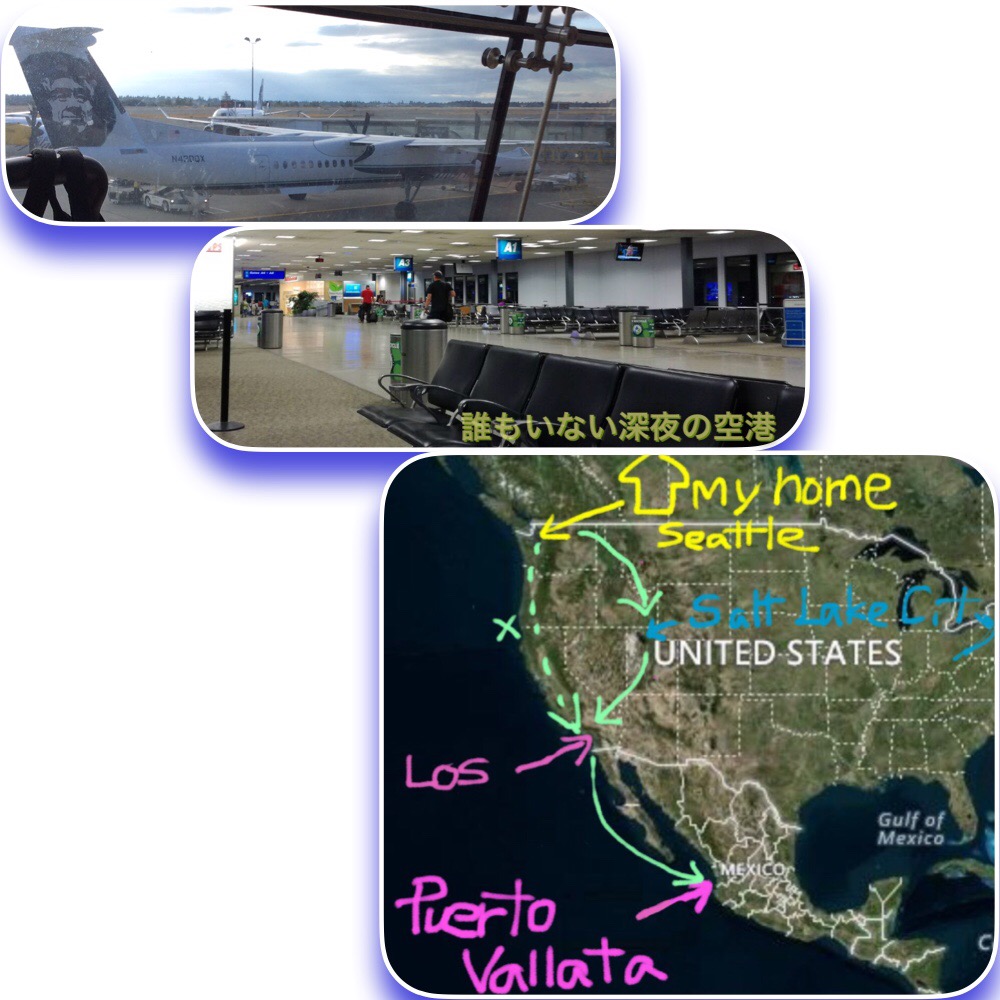 There was another couple who missed the same flight and were negotiating. It took so long! The wife checked our proceeding and said she would insist on getting their hotel and meal, and also said it was the right thing we should have got because it was THEIR fault!! So, I did my best to get our tickets for free (at least) with my limited English.
After a long call, finally they handed us a flight ticket and 3 meal tickets and 1 for snack, each worth $24. So, we definitely ate 3 meals: breakfast to dinner, at Seattle airport and slept on the bench at SLC!!
まさにバックパッカーになった気分!
When we arrived in LA next morning, we encountered the couple at a cafeteria whom we met at Seattle. We talked about how we got here and so, and found out they got different tickets from us; they even didn't go to SLC, but flew to LA and stay in a hotel! What made me surprised was their meal tickets each worth

$48!!!!

What's the hell?!!! They were definitely before us in line, but it's not fair! Seems like it's just depends on negotiating skill. They won it with that. I deeply got to know

this is the way in America!

Anyway, I didn't have any intention of blaming them; they were even so nice that they gave us one of their meal ticket for our breakfast by way of compensation....lol

We finally arrived in PV taking

32 hours

from our apartment. It was long enough to make us wear out. Though we missed one night at the hotel, I couldn't insist to get refund because no energy left in me. Instead, they gave us a room with a great view on 10th floor. I though that was worth.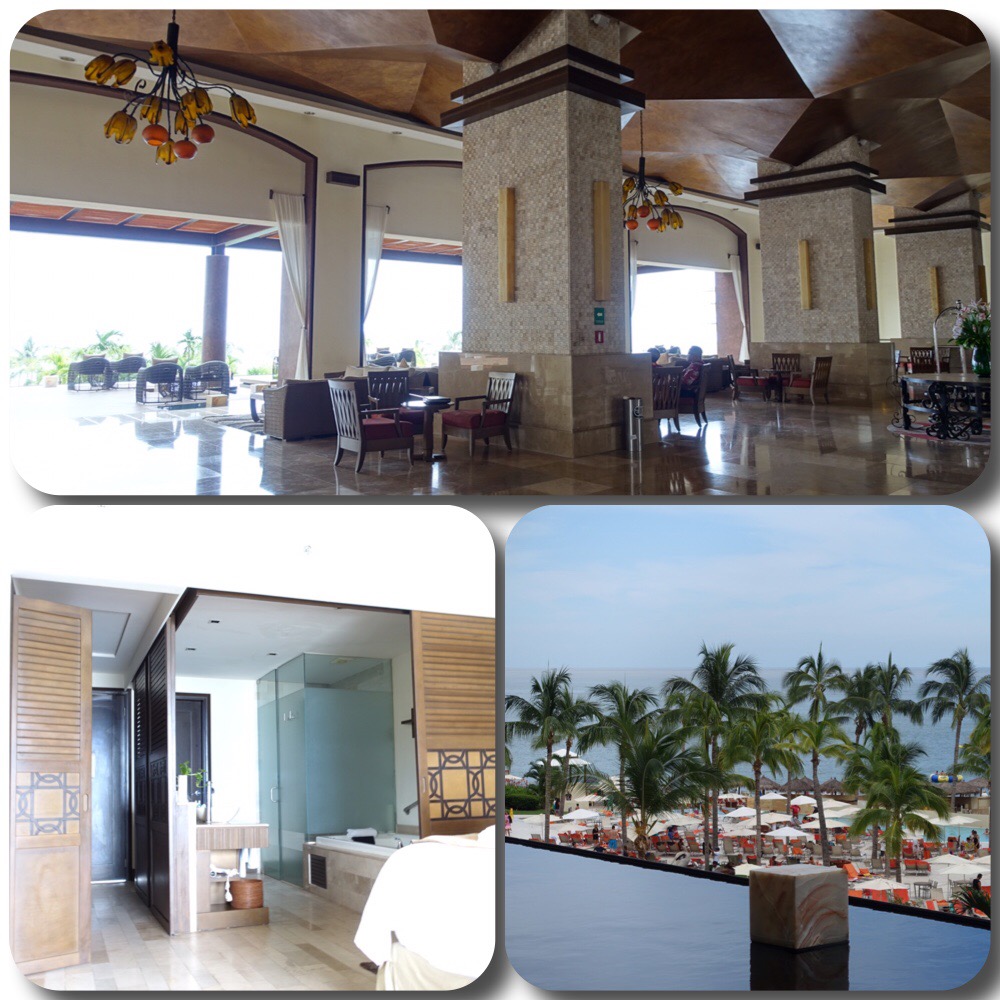 The room was perfect except musty smell. I'd checked some review beforehand and knew all the hotels here smelled due to the high humid, so it didn't get me down at all. Anyway, the first thing we urgently needed was to settle down and get something to eat.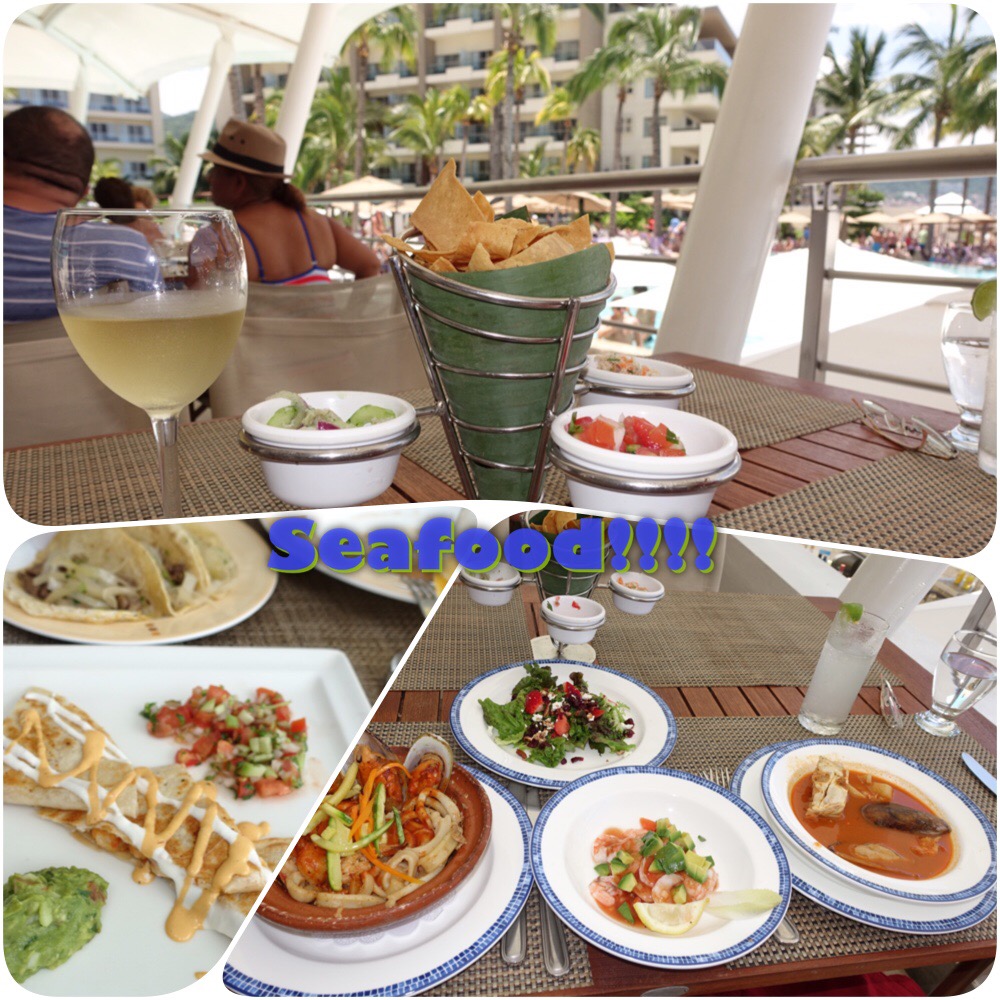 After lunch, I got back some energy and asked for changing our room, in case we could get lucky. The concierge was always nice and considerate when we ask something. They handed us a key for a higher floor room to see if it would work. I'd never expected it turned out our second trouble. The elevators were originally so slow; it took forever, and yet, one of three was out of order! We got so upset when we found out the key didn't work after a long trip from the lobby. Now we had to go back through the humid hallway. (it was open in the hall and corridor without air conditioner !)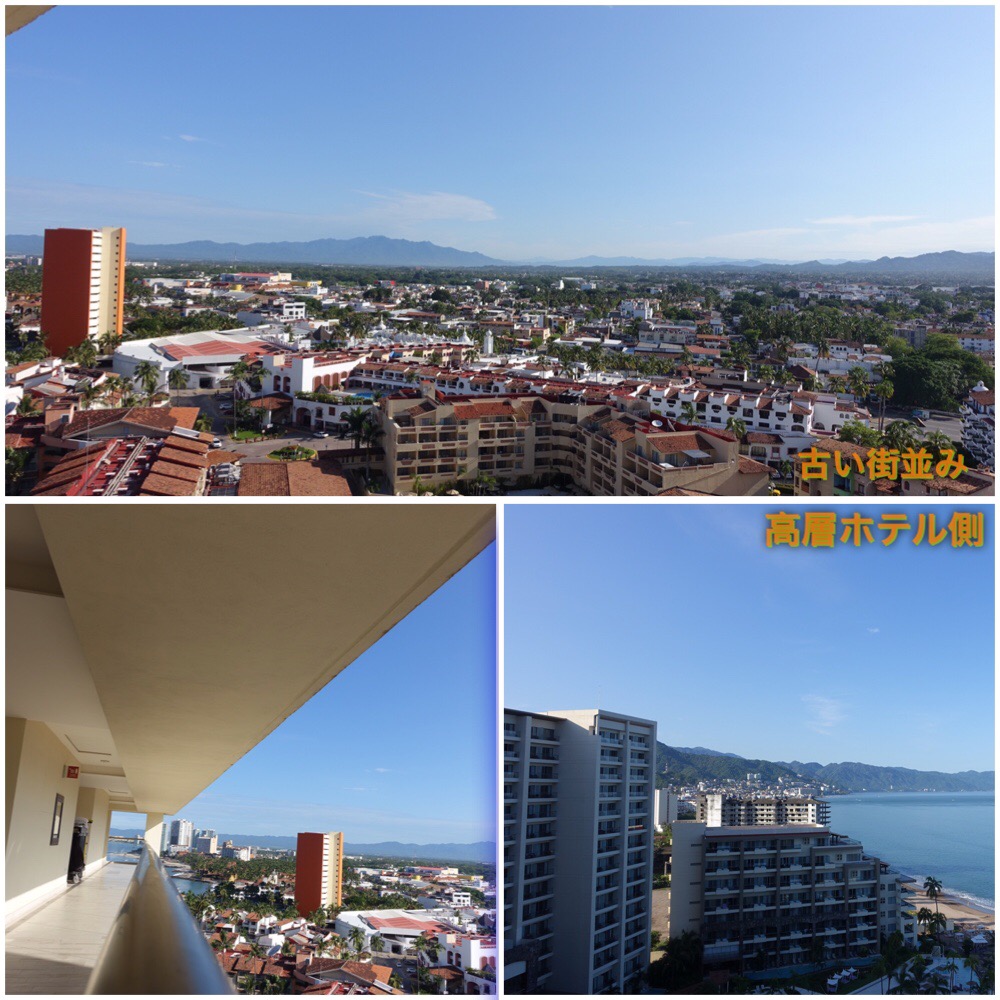 A staff came with a new card key after long, but it was same thing. We couldn't get in unless the repairman came up and fixed it. It was so hot out there. The humid made us feel more exhausted, but the staff who were with us eased my feeling somehow. He was a Mexican, who was born here in PV and grew up in LA, talked us about the town; what it was like before; it used to be a quiet beach town with small hotels, and pointed the mountain over the town where he used to live and said people still made a living with growing cows and horses. He also said he loved this peaceful environment, and that was why he came back. His talk made us happy and forget the long-waiting time somehow, to be positive.....!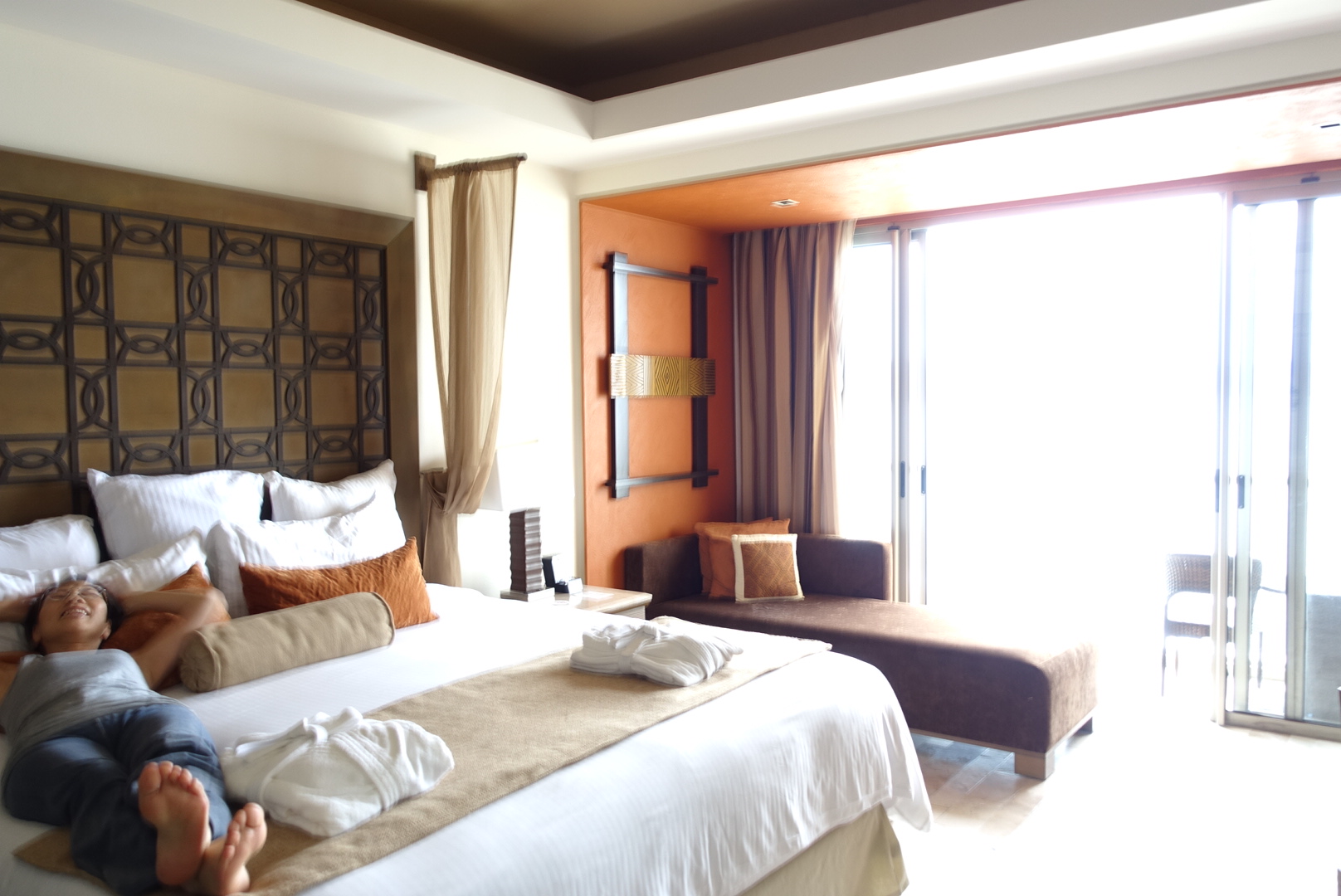 Luckily, the room was much better than the previous one, and we moved in, of course he helped us with our baggage and we tipped him with thank you. We came here to get away, forget the time. It's always better to be positive and enjoy any situation than upset. It's in Mexico!
Eventually, we got to know more *Mexico*. Taking a local bus is always the most fun part of my trip. This time was not an exception. Prepare 20 pesos and get 5 pesos for change for two (it's less than $1US!) and seat. That's it! So easy!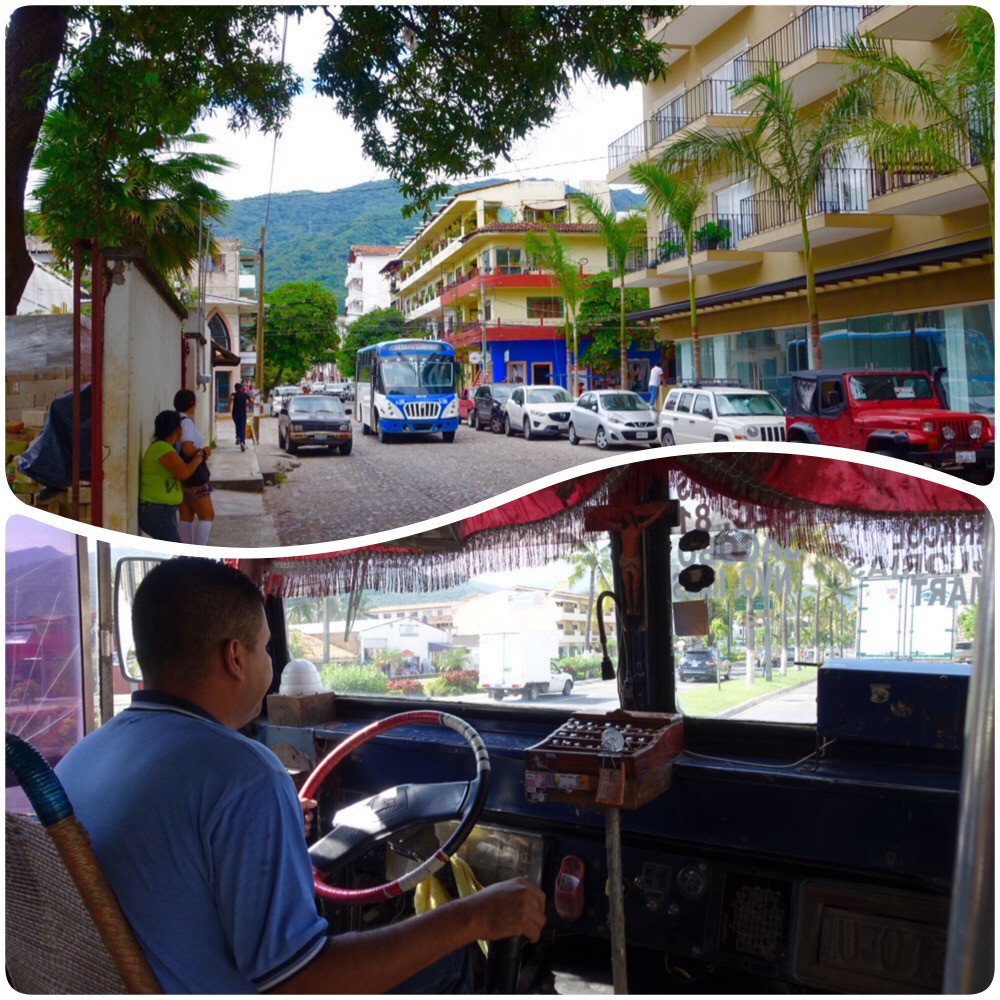 The bus takes you to the down town and Mismaloya beach and more. The bus was unbelievably rickety old with broken windows shaking us up and down as if it had a flat tire. I think it was nothing special for the local people, but for us, totally out of expectation and we were so excited that I couldn't stop laughing! We took 6 times of buses go and back to get different places, after all, I really needed massage, and YES, I actually got massage for $25 thinking that we could have taken a taxi instead.lol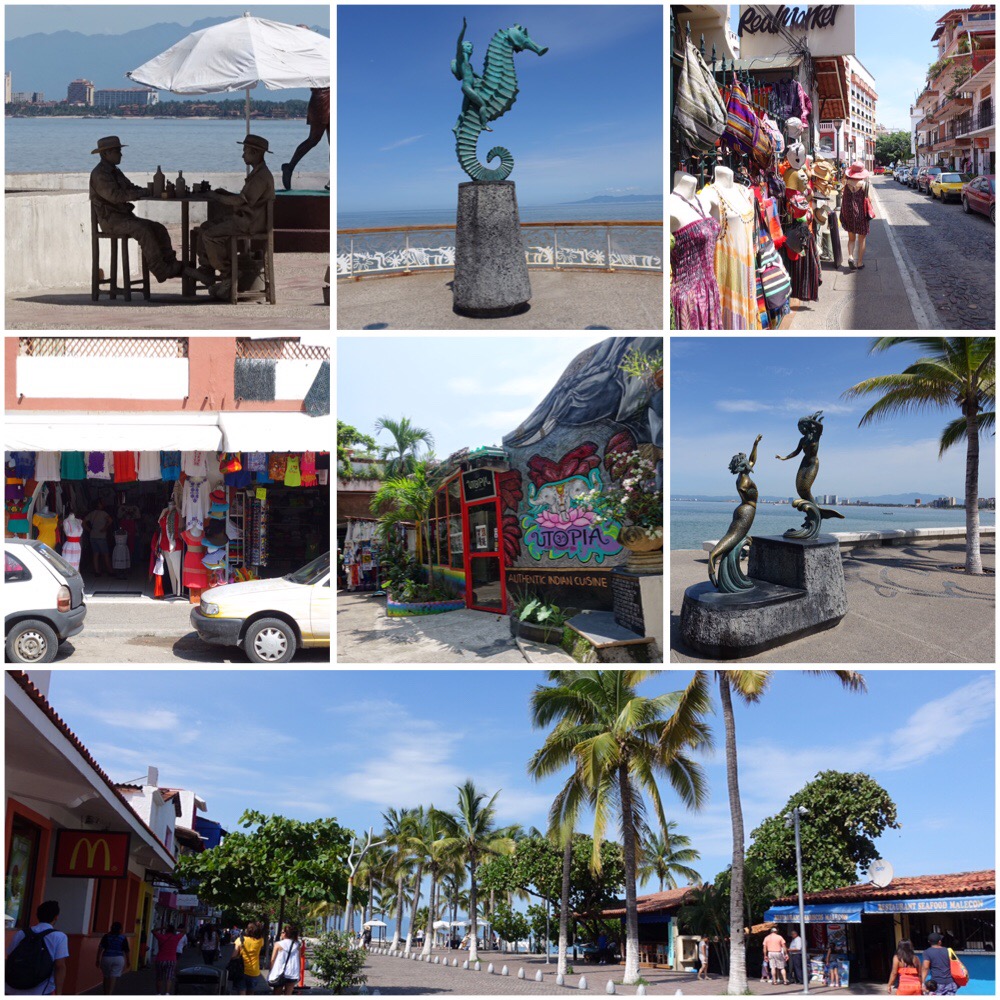 (continue to next)